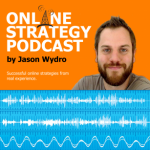 Listen in to Jason's podcasts on iTunes or Feedburner. Jason discusses a variety of topics from organic search engine optimization to custom WordPress plugins.
Jason's approach is basic and gradient. He speaks in layman's terms with technology and explains things in a very easy to understand way.
Request a Topic
Listen on iTunes
Visit Website
Click a title to listen below, go to onlinestrategypodcast.com or listen on iTunes.
[feed url="https://feeds.feedburner.com/OnlineStrategyPodcast" number="30″ ]