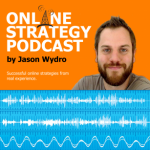 Listen in to Jason's podcasts on iTunes or Feedburner. Jason discusses a variety of topics from organic search engine optimization to custom WordPress plugins.
Jason's approach is basic and gradient. He speaks in layman's terms with technology and explains things in a very easy to understand way.
---
---
---
Listen to Online Marketing Podcast episodes by clicking a title below, or listen on iTunes.
---
---
Recent Google SEO Project Case Studies
The Practice Solution Magazine
Five Valleys Veterinary Clinic
---
---
---
Schedule Now
Not sure if our service is right for you? No worries. We've got you covered.
---
Online Marketing Podcast
was last modified:
December 28th, 2016
by
Online Marketing Podcast
was last modified:
December 28th, 2016
by